An extra living space can be provided to your home and garden by adding a conservatory. Among various designs and shapes of conservatories, you can choose one that best suits your home. A T-shaped conservatory is one such model which is mostly preferred for larger properties with a long wall. It is suitable for all house styles and bungalows of these days.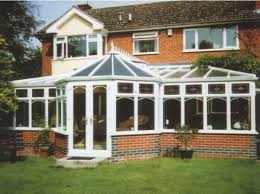 The style of a T-shaped conservatory is in such a way that the top of the 'T' is joined to the property. The bottom part of the conservatory extends forward from the middle. This conservatory includes a combination of lean-to conservatory and a Victorian or Edwardian conservatory.
Because of its larger design, it is most suited for buildings having a larger space. The central projection of the conservatory can give a 'porch' effect. It is also a better option for those who have a large garden in front of their house to build a T-shaped conservatory. The bottom section of the 'T' can extend away from the house into the space of the garden. Thus you can use your garden space for various purposes. When you have single storey dwellings and other buildings are having restrictions on height of the conservatory, then you can use a hipped back roof with a box gutter.
A T-shaped conservatory can be used as a dining room or as an extension to the lounge. Two separate rooms can be made inside the conservatory. Availability of large space, versatility, and provision of dual rooms are the benefits provided by a T-shaped conservatory.