It is important to buy a hook that is suitable for the curtain and this can be done by examining the top of the curtain before purchasing the hook. Curtain hooks are inexpensive ways yo make a window look stylish and they can be used as decors. Hooks are used to hold the curtains or used to hold a curtain rod. There are different types of curtain hooks available in the market which are used to hang the curtains and those are given below:

Clip Rings:
Curtains are attached to the curtain rods with the help of clip which is at the bottom of the ring. Curtains are attached by clipping. Clip rings are rings that slide onto the rod.

Heading Hooks:
A heading hook is used as an end hook and it is used to hold curtains in an upright position.

Two Prong Hooks:
The curtains which have pleating tape can be hanged by using two prong hooks and the tape has two pockets to insert the prongs into.
Four Prong Hooks:
Four prong curtain hooks give a pinched pleat look to curtains without any sewing and the prongs can be inserted into the curtain heading and can get instant pleats.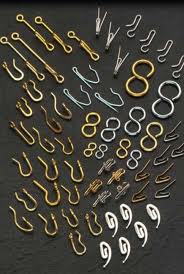 Valance Pin:
It is a large and rounded hook and it is designed to slide over valance rods that are flat or round.
S Hooks:
These type of hooks drape over a rod and the bottom of the hook inserts into a button hole at the top of the curtain.
These various kinds of hooks are used to keep the curtain intact. As curtains add beauty tot he room, proper care should be taken in fixing them.