In earlier days curtains are used to block the sunlight entering the home and to provide privacy. But today they are also used as decorative items. While choosing the shower curtains consider the element of safety along with the features like design and color. There are many types of the shower curtains available in the market based on the material used and which offer many benefits. Those varieties are here under: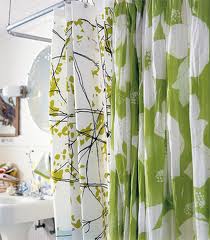 Vinyl Shower Curtains:
Vinyl shower curtains are inexpensive and water proof in nature. They are durable and come in variety of themes. If there are children in the home it is better to use vinyl shower curtains as they are opaque and provide clear vision if the kid is showering. Vinyl shower curtains comes in two grades that is classic version and the heavy duty vinyl.
Hemp Shower Curtains:
Hemp curtains are made up of heavy fabric, they are resistant to bacteria, virus, molds and soap scum resistant. It is also better for the health as the hemp is usually grown organically and colored with natural dyes. Other advantage is that the hemp shower curtains do not require lining.
Fabric shower curtains:
These curtains are permanent additions for a bath room and increases the decoration of the bath room. These are made up of different materials like cotton, nylon, or terry cloth. These soft curtains hang more like window curtains. Fabric shower curtains may not have enough air circulation to dry out between showers in a high use bathroom. These fabric curtains require a liner which allows the curtains to look beautiful on the outside, but functional on the inside of the shower or bath.
From the above said shower curtains, any curtains which best suits your need can be selected.