It is obvious that we wish to have a beautiful and neat kitchen. Various unique ideas of kitchen remodeling make it more elegant. As you know, adding ceramic tiles to your countertops and floors is common part of your kitchen improvement project. However, consider decorating your kitchen walls with ceramic tiles to make it look more beautiful.
Adding decorative or hand-painted tiles in your tile back splash can be a part of kitchen remodeling. Take one prominent color and add a band of color using thin slice of a tile on the back splash. If you have archways between rooms, then you can bring the accent tiles to the kitchen walls. The architectural structure can be highlighted by adding tiles around it.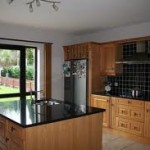 Placing mosaic tile images at the center of the wall above the stove in the back splash area is another great idea for decorating your kitchen walls. They give a different view to your kitchen and as they are water-proof and grease-resistant, they are easy to clean. You can even trim the kitchen walls and soffits with decorative tiles which form a tile border. Trim moldings with tiles look much better than using wood for the surfaces of countertops and floors.
Decorating with tile painting can add much beauty to your kitchen. You can even dress up your kitchen with long and linear stainless steel tiles. A ultra modern look is provided by adding these tiles to the ceramic and glass tiles. You can even bring some architectural results by using metallic-covered ceramic and non-ceramic tiles. Adding decorations with tiles to your kitchen may also enhance the value of your property.