Water barrels are also known as rain barrels. Rain barrels stores rain water effectively and they are a great way to store the rain water. Rain barrels are available in different shapes, styles, and colors to suit most water storage needs. A rain barrel is a system that collects rain water from the roof. A rain barrel works on the gravitational principle and it doesn't have pumping system. It is a great method of resource conservation.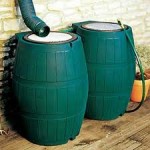 Following are the tips to choose a most suitable rain barrel according to your needs:
Rain barrels made out of plastic saves money for you and you can also contribute to protecting the environment by using plastic rain barrels made up of recycled material.
You can get the barrels for free of cost by searching in the industrial areas where some industries give barrels freely. Some companies sell the used barrels at lower prices than the prices offered by the retailers.
A plastic rain barrel is ideal for connecting a soaker hose watering and shrubs and garden areas.
Purchase a barrel which has spout at its bottom.
If you can't find a drum with cover at its top, don't worry, you can cover the top of the barrel with a screen type material.
Select a barrel which keeps the water clean for longer time periods and for this select a rain barrel in black plastic, which stores water for longer without being stagnant.
Select a rain barrel to which small pumps can also be connected, as these give sufficient pressure to operate a sprinkler rain barrel.
Keeping all the above points in mind, choose a rain barrel.