This system is the another layer of the electronic stability control. In this system the dynamic sensor feeds the information to the electronic control about the radial, lateral as well as the yaw movements. The yaw is the information about the car front situation – whether the car is going on the center-line or going in the up or down or back or sideways, in relation to the center-line.
This information can be achieved by employing anti-rollover system and rollover warning system. The GM calls it as Proactive Roll Avoidance, the Ford calls it as Roll Stability Control, and the Chrysler calls it as Rollover Mitigation.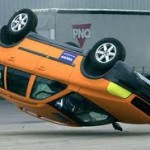 How it works?
Most of the newer SUV systems are equipped with electronic stability control systems, but this system is a step further. When you make a turn too fast, then the car senses a potential rollover and then the system applies the brake and modulates the throttle as needed to help the driver to control the vehicle. This system applies brakes through the hydraulic unit and anti-lock braking system.
The rollover warning will work only when the impending vehicle rollover threat can be accurately represented.
Things to do:
Take your foot off the accelerator and allow the vehicle to slow down gradually. Once the vehicle has been brought down to a safety speed or is totally stopped, then gently steer the vehicle back onto the road surface by using the lower gear to assist the overcoming surface of soft shoulder or drop off. Under the conditions of soft shoulder, feather the accelerator to help to maintain the control of the vehicle while slowing down. Do not apply full brakes, but use the soft applications of the brakes, which are naturally decelerated and downshifting to bring the vehicle to stop or to the safe speed.
Facts which are alarming:
Most of the systems are attributed to emergency vehicle driver error only. Nearly all emergency vehicles rollover crashes are clearly preventable, and many rollovers do not involve other vehicles.
Take few minutes to review conditions, which can help you to be a better driver and which may possibly prevent the tragedies.