It is very interesting to try and taste different varieties of cuisines. Do you want to try a recipe of the United States? Chimichanga is the popular Southwestern U.S. cuisine. It is a deep-fried burrito prepared by filling a flour tortilla with a wide range of ingredients. It can be filled with beans, cheese, rice, shredded chicken and many others. Below is the preparation of chicken Chimichangas.
List of ingredients required
2/3 cup of picante sauce or 2/3 cup of salsa
1 teaspoon ground cumin
1 cup of shredded cheddar cheese
1 1/2 cups cooked chicken, chopped
1/2 teaspoon dried and crushed oregano leaves
2 green onions chopped with some tops
6 or 8 inch flour tortillas
2 tablespoons of melted margarine
shredded cheddar cheese, chopped green onion, and picante sauce for serving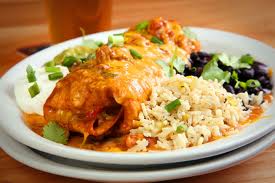 Chicken, picante sauce or salsa, oregano, cumin, cheese and onions are mixed first. Take the tortilla and place about 1/4 cup of the above chicken mixture in its center. Now fold the opposite sides over the filling. Roll up the tortilla from the bottom and keep the semi-side down on a baking sheet. It should be folded in the form of rectangles and secured with wooden picks. Then it is brushed with melted margarine and baked in oven at 400°F for 25 minutes or until golden. Now additional cheese, green onion, and picante sauce or salsa can be added to the dish for garnishing before serving.