Khaki is a fabric which is used for making military uniforms. All the men who want to break free from the formal clothing have a great solution in the form of khakis, and these are considered as the best business casual attire for men as well as women. They are very comfortable and they do not violate the dress code in the office. Khakis can be worn as casual business attire, business formal attire and also they can be worn for totally casual events. khakis are the best option for men to wear on casual weddings and beach weddings.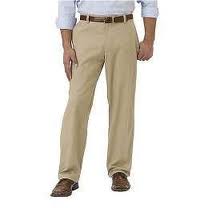 While selecting khakis for men it is essential that the selected pant should match shirt and the footwear. Khakis are made up of the materials like synthetic fibers, cotton and wool for both men and women. There are three options in the khakis to be selected and these are divided based on the color shades of khaki pants and includes regular khaki pants, dark khaki pants and light khaki pants. Regular shade of khaki is in the color khaki itself and this color is a mix of tan and light shades of brown. Dark khakis come in shades of muddy colors and light colored khakis are made in colors like beige and other light shades of yellow and cream.
For a business casual event, it is better to wear khaki pants along with a matching khaki blazer and light blue shirt and a slim but dark colored striped tie. Khakis should match the colors of the shirt. The footwear that matches for this type of dressing is buck shoes, sandals or men boots.