The curtain rod depends on the type of the curtain to be hanged. There are many types of curtain rods present, each having its own way of attaching to the wall or to the window trim. It is very important for the hotel managers choose a right type of curtain rod to please the guests. Following are the different types of the rods that can be used in the hotel rooms: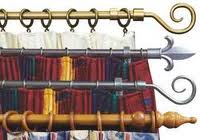 Standard Rods:
Standard curtain rods fit into a sleeve at the top of the curtain and they are light weighted because they are made from aluminum. These are installed on two simple plates having hooks on them, which gets attached either to the wall or the window trim and are available in various lengths and widths.
Traverse Rods:
These rods are mostly used with pinch-pleated curtains, have rope and hangers built into them. The draperies are hung by placing a drapery pin through the pleat and then hanging the hook on the hanger of the rod. They also come as double rods for the purpose of installing sheers underneath.
Decorative Rods:
Decorative curtain rods are available in vinyl, wood and all kinds of metals. These are like poles and hang on special matching decorative wall hangers.
Spring Rods:
These can be easily installed, these are available in different lengths and they normally have two rubber ends that are braced against the wall or window frame. Inside the pole there is a spring that pushes toward the ends to hold the rod in place. The rods are available in wide range of colors and materials, and the hangers can be quite decorative and these rods are sometimes called as tension rods.
Magnetic Rods:
Magnetic rods will have strong magnets in both the ends that will hold up most door curtains. These are specially invented for the metal doors and the rod runs through a sleeve on the curtain, and installation consists of just sticking it on the door exactly where it is needed.
These rods add beauty tot he curtains as well as hotel décor, hence selection of these rods should be made carefully.